Signs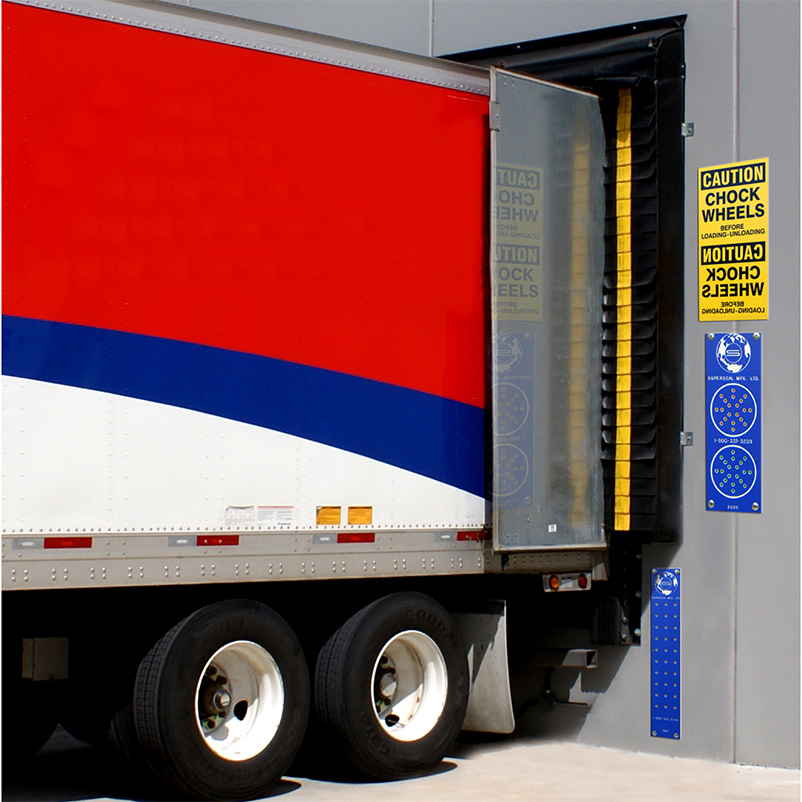 SIGNS
Available in English and French.
 ALL MODELS INCLUDE:
-Pre-drilled holes for easy mounting. (Mounting hardware not included)
-Aluminum powder-coated, safety yellow paint finish standard for any size.
SUPERGUIDE TRAFFIC COMMUNICATION SYSTEMS
Easily installed, the SuperGuide Traffic Lights increase safety for dock attendants, truck drivers and forklift operators. Assisting in proper and safe reversing of trucks and trailers the SuperGuide System also reduces costly damage to dock and dock accessories. Ultra intense, long lasting LEDs (light-emitting diode) offer superior visibility in any lighting condition.
STOP & GO LIGHTS
Stop And Go Traffic Light flash green as a truck is being directed into the open available loading dock. This flashing green light indicates that the truck is cleared to back into that loading dock. When the trailer reaches the loading dock and is safely locked into place, a signal is sent to the Stop And Go light. The flashing green light outside changes to a flashing red light, telling the driver that he is safely docked. This sort of communication is imperative to increasing safety and communication between the employees inside, other trucks driving in the lot and the driver who is parking the truck.
As an additional safety feature, a second Stop And Go Light can be installed inside the loading area. When the outside light flashes red letting drivers know they are safely docked, the inside light flashes green to indicate that loading or unloading may begin.
There are many different applications for Stop and Go Traffic Lights. Forklift and Freight traffic are just one area in which traffic lights are used.
Benefits:
-Increase dock safety
-High contrast & visibility
-L.E.D. long lasting and bright
-Inside & outside light systems
Brochures (.pdf)
YouTube Videos
L.E.E.D Statement
s
     Spec Sheets
   Installation/Operation Manual
s