Truck Restraint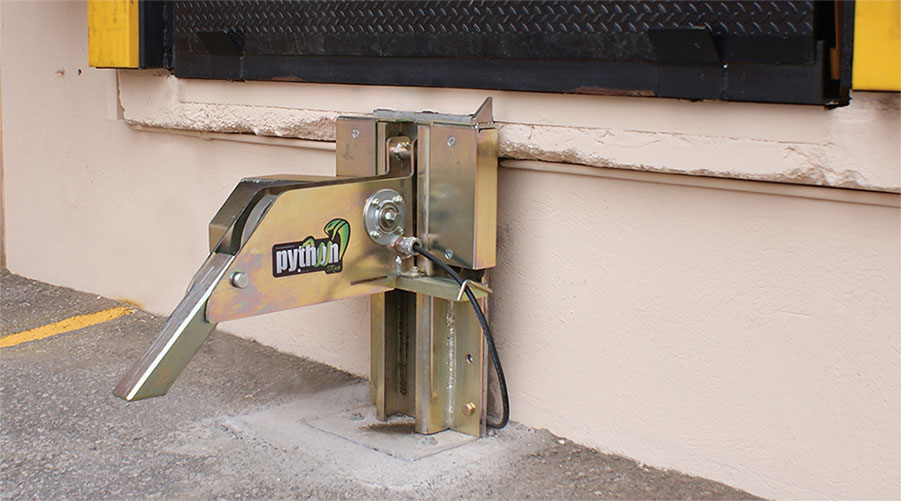 As one of Super Seal's premium dock products, the Super Seal Truck Restraint is designed for safety and reducing the risk of dock accidents. With a high-visibility hook-style restraint arm, it is the ideal solution for keeping workers, equipment, and cargo safer during loading and unloading. Also a cost-effective alternative to hydraulic truck restraints, its rugged design makes it virtually maintenance-free with the ability to function in the toughest environments. The unique rotating hook engages over the impact guard using a restraining force of 32,000 lbs (14,514 kgs). You can rely on the dependability of this truck restraint and worry less about the direct and indirect costs of an industrial accident.
The Super-Seal rotating hook vehicle restraint is designed to help prevent loading dock issues from:
Premature truck departure caused by driver miscommunication
Forklift drivers right to enter the trailer
Trailer creep due to movement of a forklift
Trailer Tip Over due to load shift
Landing gear collapse due to the inertia of a forklift
MECHANICAL FEATURES:
Increased reliability due to the all electronic mechanics, allowing for full control over unit from freezing or abrupt function (no mechanical limit switches)
Low power consumption, saving on energy costs.
Pulse Width Modulation (PWM) has a soft start and soft stop – thus operates without the need for abrupt mechanical motions (quieter functionality and potential increased longevity of unit).
One board design with simplified wiring design.
ICC Bar (Motion sensor) can detect obstructions – not timer based.
Advanced LED Communication System & Display provides:
Red and Green LED light communication inside and out
Outside Driver communication signalling and signage
Inside Forklift operator communication signalling and instruction
Easy twist switch operation with audible alarm override and flashing LED light
Programmable display (English/French/Spanish)
Status Indication, updates and system monitoring at a glance
Sensor alerts operator if rear impact guard is NOT detected
Simple controls eliminates confusion
For more information on our tailored built Truck Restraints or other perfect additions to a fully functional shipping and receiving area such as: dock lighting and custom signage, bumpers and dock levelers; please call 1-800-337-3239 or email [email protected]